If you follow me on Twitter, you know that I'm a bit obsessed with sharing pics of spectacular vintage and thrifted items I come across while doing research (which my husband would correct as" shopping") for my Thrifting 101 series. Last week I had the pleasure of dropping into Vintage Martini, a jewelbox of a vintage store in Carrollton, Texas. Voted as D Magazine's choice for "Best Womens Consignment Store in Dallas", Vintage Martini features pristine vintage from the likes of Emilio Pucci, Hermes, Betsey Johnson, Halston, Christian Dior, and other high-end designers.
Vintage Larry Aldridge silk dress
Two of many vintage hats and turbans
Vintage Martini is a shop located in a charming Texas town square not far from Dallas. While browsing the store and trying my best not to hyperventilate, I spoke with owner Ken, a native of St. Louis. Ken scours the world in search of pristine vintage clothes and accessories. He is brilliant at identifying obscure vintage labels and patiently answered my questions about his merchandise, which beckons from endless racks of silk dresses, beaded cardigans, 1920's flapper dresses, vintage prom dresses, and 1950's white gloves.

In addition to offering designer clothing, Vintage Martini extends their inventory to vintage fashion magazines, sunglasses (I walked out with a fabulous pair from the 70's that would make Rachel Zoe weep with jealousy), stoles, bags, scarves, and even vintage barware to go with any great outfit. All of their inventory is updated frequently and is available online, making for an easy shopping experience.
Vintage Betsey Johnson eyelet dress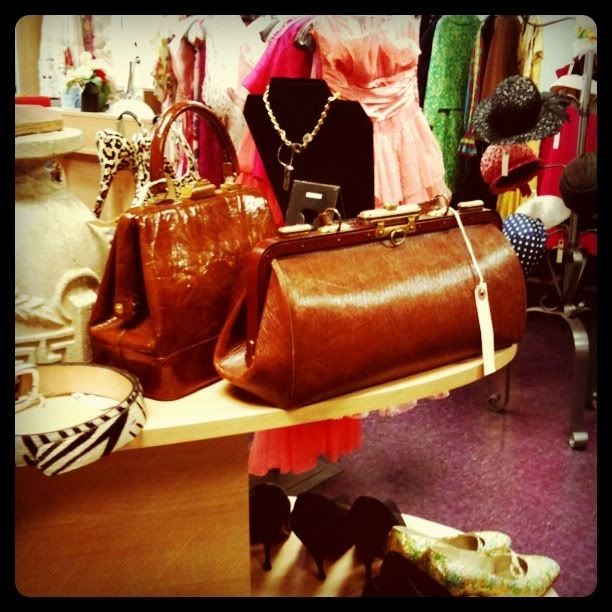 To celebrate reaching 150 followers, I'm offering my very first giveaway - a $50 gift certificate to Vintage Martini to use either in-store or online! To enter, simply do the following:
Follow me through Google Friend Connect;

Follow me on Twitter @dresscourage;

Become a fan of Vintage Martini on Facebook,

and leave me a comment with your email address at the end of this post.

For an extra entry, re-tweet the following: RT @dresscourage I just entered the Vintage Martini giveaway at http://dresswithcourage.com
That's it! The winner will be chosen at random on April 21st. Good luck!